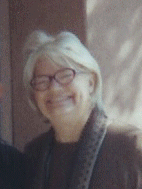 MOLLY IVINS 

IN CONVERSATION WITH RICHARD WOLINSKY

The nationally syndicated political columnist, co-author of "Shrub" and "

"Bushwhacked" and author of "Molly Ivins Can't Say That, Can She?" and "You've Got to Dance With Them What Brung You," discusses George W. Bush and his presidency and other topics in this special 37-minute web-edit interview with Richard Wolinsky. Recorded at KPFA, Berkeley on October 16, 2003

Click the picture to hear the Extended Web Edit

About the interviewer:

RICHARD WOLINSKY
hosts "Bookwaves" on "Cover to Cover" heard every Thursday at 3:30 pm on KPFA-FM in Berkeley (
www.kpfa.org
) and in Pacifica syndication.
Molly Ivins, October 2003