GAYLE LYNDS

IN CONVERSATION WITH RICHARD WOLINSKY

A former "think tank" editor with Top Secret clearance, Gayle Lynds is the author of THE LAST SPYMASTER, THE COIL, MASQUERADE, MOSAIC, and MESMERIZED. She is a member of the Association of Former Intelligence Operatives and the Military Writers Society of America as well as co-founder and co-president (with David Morrell) of International Thriller Writers, Inc. Lynds also co-created the best-selling Covert-One series with Robert Ludlum and wrote three of the novels.. She lives in California, where her husband, renowned detective novelist Dennis Lynds, died recently, in August 2005.

About the interviewer:

RICHARD WOLINSKY
hosts "Bookwaves" on "Cover to Cover" heard every Thursday at 3:30 pm on KPFA-FM in Berkeley (
www.kpfa.org
), and in syndication through the Pacifica Network.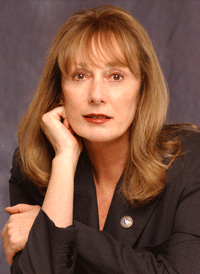 Gayle Lynds
has been interviewed twice by Richard Wolinsky
Recorded April 14, 1004, aired June 10, 2004

Recorded June 12, 1006, aired August 10, 2006